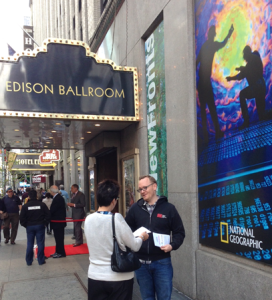 The WGAE held an informational picket today at the Nat Geo/Nat Geo Wild Newfronts presentation in New York.
The goal of the NewFronts, or new upfronts, is to encourage marketers and ad agencies to spend more money on digital ads, either by increasing budgets or shifting TV dollars to online media.  Both "new faces" like Google, Hulu and Yahoo and traditional TV networks hold presentations to encourage marketers to invest in their digital offerings.
Nat Geo Wild's show Cesar 911 is the breakout hit of the year for the network.  The producers who make this show and others for ITV Studios work long hours and receive no overtime or health benefits.  ITV producers voted to join the WGAE, but ITV Studios refuses to sign a contract.
The WGAE's leaflet encouraged media buyers to consider whether a company like ITV Studios and their combative approach to labor relations is good or bad for their brands.