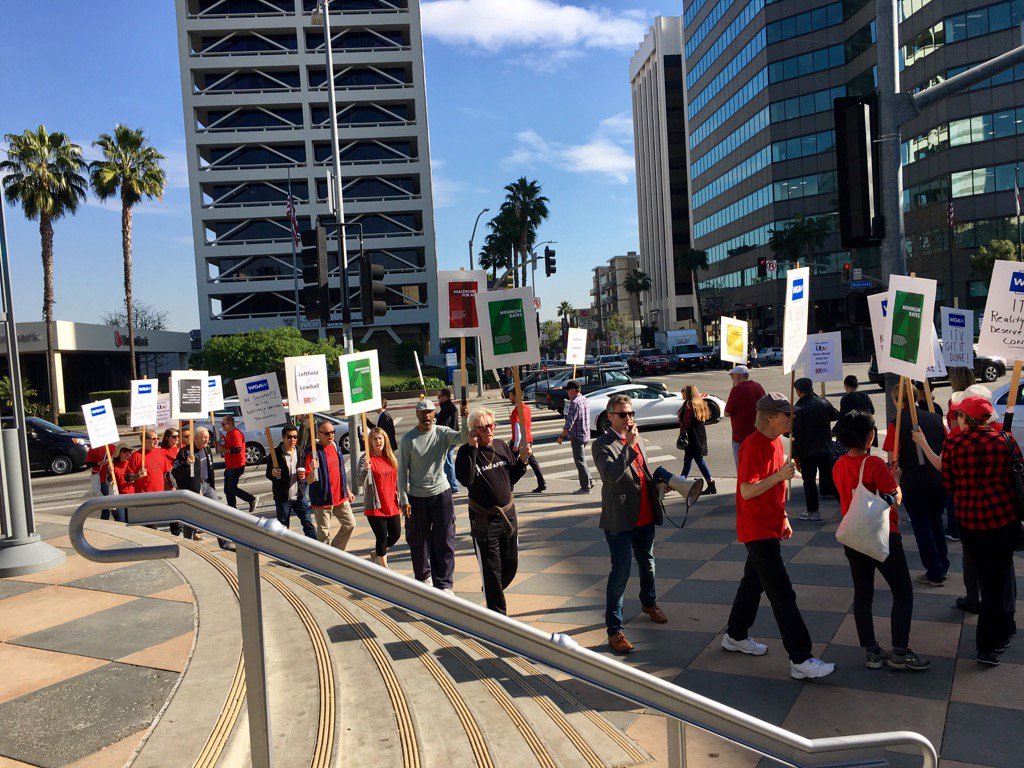 Today, 50 people including Writers Guild of America, West and SAG-AFTRA members rallied at ITV Studios in LA to demand better pay and improving working conditions in Nonfiction television and Leftfield in particular.
ITV owns Leftfield Entertainment, and this action is part of the recent escalation in the fight to win a fair contract at Leftfield.  Variety Article.
Chants included: "ITV, you can't hide. We can see your greedy side."
"Hey there, ITV! How about THIS for Reality!"
Three weeks ago in pouring rain over 60 Nonfiction TV freelancers and allies held a protest at A&E/History Channel, Leftfield's most prominent network client.
Earlier this week, three NY City Council members, Brad Lander, Cory Johnson, and Daneek Miller, sent letters to execs at A&E, AMC, Fox, and Viacom.  They demanded to know from the networks:
"What labor standards does your network have to ensure that the production companies which you contract to make your nonfiction programs (e.g., Leftfield) pay their employees living wages with reasonable benefits, and sustainable work schedules?"
Next week will be the next bargaining session with Leftfield. We hope to be closer to signing a contract at one of the largest Nonfiction TV production companies in NYC. The movement is growing with over 800 people signed on to the industry-wide demands for a fair industry, public actions, and bargaining at the largest production company in NYC!